OJAS
SMART CITY buzz is catching up, so a "Smart City" must also implement a civic system that smartly preserves and utilizes water. Ojas is an affordable and unique solution developed with the vision of a smart city for sustainable utilization of water. It can wirelessly monitor tank level and can automatically shut off/on motor/pump. A version with a mobile app based control is also available.
OJAS
Basic: ₹2500, Ultra: ₹3500
Automatic, wireless water level monitoring system and pump/motor control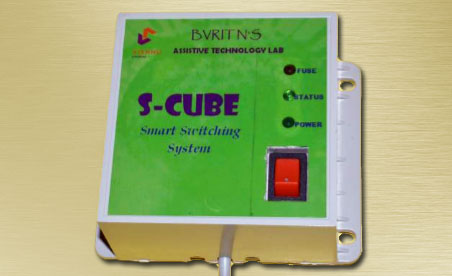 SCUBE
Technology has a purpose only when it serves humanity. Sometimes our empathy for someone gives rise to an innovation. SMART SWITCHING SYSTEM not only offers comfort to a normal user but helps the paralyzed, paraplegic, visually impaired and elderly persons control their room's appliances with accelerated ease.
SCUBE
₹1500
Mobile Based Appliance Control with accessibility features
Other Projects. Please contact us for more details.
Electric car design
Automated belt system
Real time Bacteria & Virus detection in a Hospital/Industry
Eye blink and alcohol sensors & mobile applications
Safety screen to avoid industrial accidents during machine operation
Toxic gas detector
Smart beacon – Accident avoiding system for roads
PIR based Home Automation
SMART BOT – Real-time monitoring and communication system
Centralized Locking and Altering System
Solar Theft Detection System
Lift accessible system for the VI Employees of Deque